General Information
& About Sonya
Frequently Asked
Questions
I do both in person and virtual session.  Virtual session are via zoom.  Sessions are 45 minutes in length.
A "Notice of Privacy Practices" is available for your information as required by law.  Please take time to familiarize yourself with it.
 Please ask for a printed version if needed.  This notice describes how I may use and disclose your protected health information in accordance with the law and the NASW Code of Ethics.  The information talked about in our sessions is confidential.  This means I can't tell anyone what you have told me during our sessions without your written permission.  There are exceptions to this.  I am a mandated reporter in the event that someone is a danger to themselves or others.  In this case I am permitted and/or required by law to report what I have learned.  If this should happen in treatment, we will handle it together in a careful and respectful manner.
 • When there is suspicion or proof of child abuse or abuse to a dependent or elder adult.
• When the patient communicates a threat of bodily injury to others or to the public.
• When the patient is suicidal.
• When disclosure is required pursuant to a legal proceeding.
Sessions are paid for at the time of the service. You may pay for sessions by cash, check, or Zelle.  Please feel free to discuss with me, during the course of our work together, any financial concerns that you may have.
I am licensed in both Connecticut and New York and I am an out-of-network provider.  This means insurance claims for coverage/reimbursements need to be submitted directly by you and may or may not be covered by your insurance company.  Once you have paid for services, I will provide you with a statement to submit to your insurance company.  While this statement includes all of the information you need from me for the processing of your claim, you will still need to fill out any additional forms specific to your insurance company.
The No Surprises Act protects clients from receiving unexpected medical bills.  The  Good Faith Estimate  provision of the No Surprises Act is designed to give clients an estimate of how much they will be charged for the healthcare services they will be receiving.  I will provide you with the cost of services prior to our first session, however, if you would like a formal Good Faith Estimate (GFE), please let me know and I will be happy to provide one.
If you are cancelling/rescheduling last minute, please call 203-552-5280.  Otherwise, for general matters your options are to call or send a text to (203) 552-5280 or email to Sonya@SkrTherapy.com.  I will return your call, text, or email within 24 hours or the next business day.  I am in the office Monday through Thursday. Therefore, Friday and holiday messages will be returned on Monday or the next business day.
Please note that counseling is not provided through text messaging or email.  These are reserved solely for communication regarding appointments and other practical matters.
When the occasion arises that I need to be out of the office during regular business hours, you will be notified in advance, and I will provide the contact information of the professional covering for me while I am away.
Life happens. I understand. When scheduling an appointment, I am reserving a special time for you. Missed or Rescheduled appointments with less than 24 hours notice prevent others from using the time slot. To avoid paying the full normal session fee for a missed or changed appointment (except for inclement weather, serious illness or other significant emergency), changes or cancellations must be made at least 24 hours in advance. This gives me the opportunity to schedule another client for that time period. Please note that missed appointments, in general, are not covered by insurance. If you must cancel or change an appointment, it is best to do so by phone.

No worries.  Please inform me and when you arrive we will work with the remaining time.
If your situation is urgent and requires immediate attention, please call 911 or go to your local emergency room and inform me as soon as possible.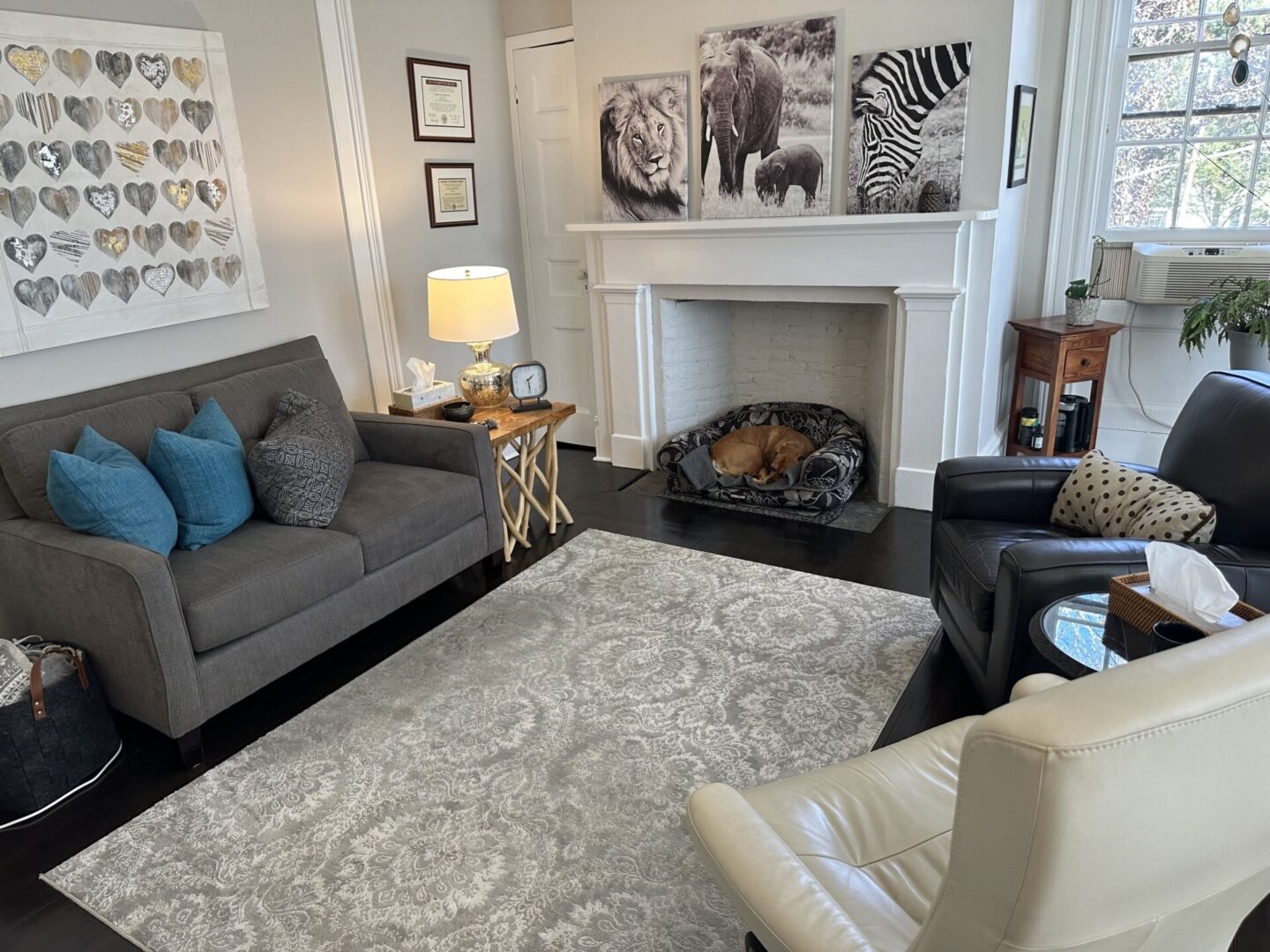 Although I have lived on the East Coast for 30+ years, my roots are in the Midwest, and that influence is still very present.  Growing up, I had key experiences in academics and athletics through college, which significantly impacted my decision to become a psychotherapist.
Early in my academic training, I focused on children and adults.  I began working with teenagers and young adults during my early clinical years.  I have been working in Greenwich, Stamford, Darien, Rye, Rye Brook, and the surrounding Fairfield County and Westchester County regions for over 30 years.
In the past, I have volunteered for the Rape and Sexual Assault Crisis Center in Stamford, Ct, The Den for Grieving Children in Greenwich, Ct, The Wolf Conservation Center, and Animal Nation Farm Sanctuary in New York.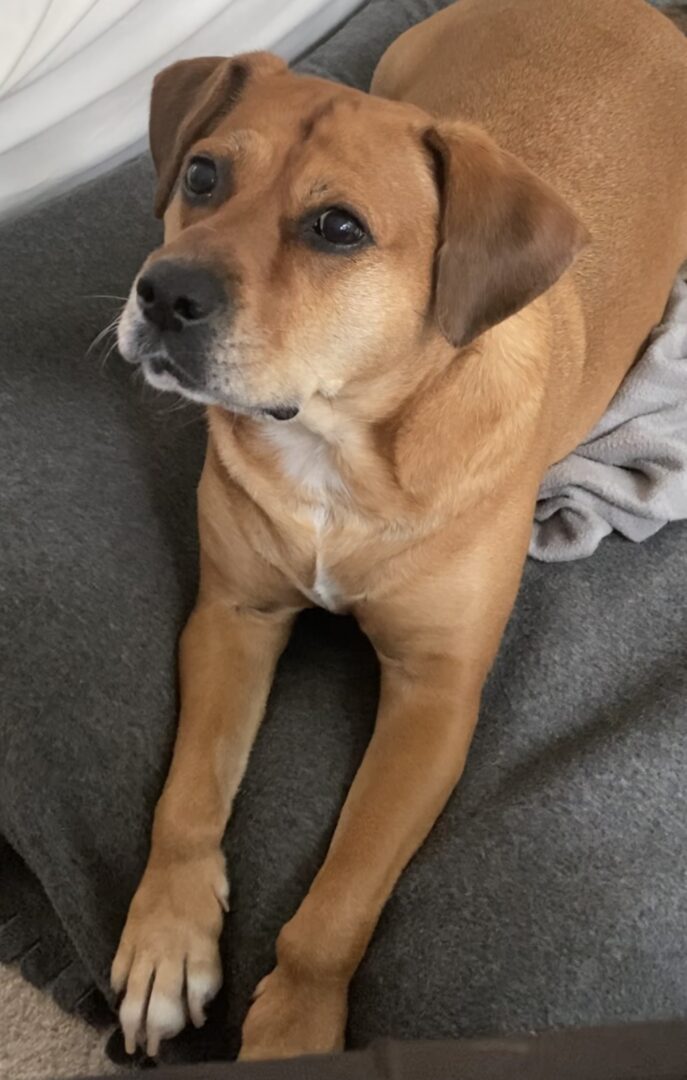 Dakota has been joining me at the office for 9 years and loves her role.  She will be there to greet you, join you for a little affection, or just as happy to be left alone.
Dakota is a medium sized Beagle, Boxer, and Labrador mix.  While she is not hypoallergenic, she has yet to cause an allergic reaction.  She is sweet and quiet, except for an occasional snore.
Education
The University of Chicago  ~  Masters of Social Work
The University of Wisconsin ~  Bachelor of Business Administration
Professional Memberships
NASW  ~  National Association of Social Workers
NEDA  ~   National Eating Disorders Association
EMDRIA  ~  EMDR International Association
Level I and Level II EMDR Certification
EMDR R-TEP Trained
CBT (Cognitive Behavioral Therapy)
Brain-Based Therapies (Neurobiology)
Adolescents and Parenting
Children (Play Therapy)
Divorce, Blended Families, Step Parenting
Relationship Strategies and Couples Therapy
Sports Psychology
Men's Issues
Executive Consultation
Alcoholism and Addiction
Eating Disorders
Self Harm
Bipolar and other Mood Disorders
Grief and Loss
Mindfulness, Meditation, and Spirituality
Trauma (PTSD)
Sexual Abuse and Incest
Women's Issues
Previous Experience
Silver Hill Hospital, New Canaan, CT  ~  Addiction and Psychotic Disorders Units, Eating Disorders Program
Yale Psychiatric Institute, New Haven, CT  ~  Inpatient Adolescent Unit
CFSMHC, Chicago, IL  ~  Community Family Service and Mental Health Center
University of Chicago Hospital, Chicago, IL  ~  Emergency Room and Oncology